Brew Moon brewing company
Established in 2002 by Kieran McCauley and Belinda Gould, the Brew Moon Brewing Company is a family-owned brewery and taproom in Amberley, North Canterbury.  We are North Canterbury's original craft brewery, producing an established range of high quality, popular beer styles alongside a selection of more exotic seasonal brews.
Alongside our beers we pour a small selection of local wines, and provide a range of wood-fired pizzas, burgers and small plates.
The Brewery
All Brew Moon beer is brewed on an 1800 litre brew kit in Amberley, New Zealand. Because we brew and can our beer on-site, we take responsibility for every aspect of production, from grain to glass.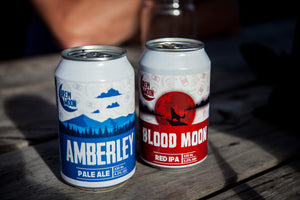 Why can?
We sell our beer in cans because it is better for the beer, and better for the environment. Cans allow our beer to be better protected from factors such as light strike and oxidation, meaning they stay fresher for longer.
They also produce around 20% less greenhouse gases during transportation than bottles, and are made of a far higher percentage of recycled materials.